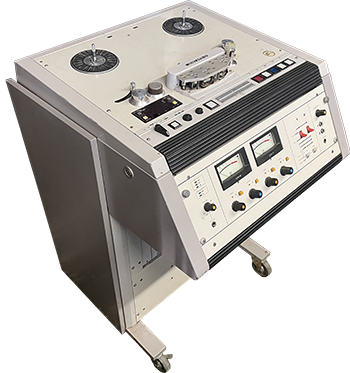 OTARI machines where vastly becoming popular in Europe, their build quality was not to the Studer standard but their performance was, this lead to them being called the Japanese Studer, a nod to their impressive capabilities. OTARI built this machine with a 8080A Microprocessor at its heart, with firmware EPROM's to store the machines operating software, a feature which was becoming more and more popular in electronics to improve the machines capabilities and reliability, this certainly was the case with this machine as when I got it, it was faulty, but it was discrete components which where the issue, not the integrated electronics.
The machine is of a modular design, everything is easy to get to and work on, some cards are designed to be hot swapped in the event of a failure to reduce done time. The machines also where available in different variants, you could have 2 or 4 track, 1/4 or 1/2 inch heads, the audio control panel could be mounted on the front like mine or on a penthouse design to reduce the overall depth of the machine.
The machine had a rather unusual tension system, one quite unique to this, under the reels there are 2 sensors to detect if reels larger than 10.5" have been used, this automatically tells the machine how much back tension to use without the user's need to switch between high or low reel tension
A bit of history on my side
This machine came up for sale quite local to me, the seller was offering it as fully working, when I went to collect, it was clear it had been left in a barn for some years, being that there was no power in the barn, I asked the seller how he knew it worked, and his reply was the classic "it worked the last time it was used". I don't think he was expecting me to plug the machine in via my van (Which has mains output), surely enough, with the machine been sat in a barn for so long, it was faulty, and this lead to a huge price decrease. This also lead to me buying a number of other machines very cheaply, most in poor condition as well but worth the price paid.
When I got it into my workshop, it turned out the power supply was the issue, a few power transistors had gone faulty, luckily it was an easy fix, and once the tape transport had been serviced and cleaned, the machine was very impressive, its clear why the industry called these the Japanese Studer.
| | |
| --- | --- |
| Specifications | |
| Era | 1984 - 89 |
| Customer | Professional Master / Dub |
| Cost when sold | Unknown |
| Control type | Full Logic Control |
| Max Spool size | 11.5" Platters |
| Speeds | 30 / 15 / 7.1/2 IPS |
| Motors | 2X reel, 1 Servo capstan |
| Heads | Erase, Record, Replay |
| Track configuration | 2 track |
| Frequency response | 50Hz – 20KHz ±2dB @ 15 IPS |
| Other tech data | Available in 2 or 4 channel variants |
| Special features | Auto sense reel size |